WALL STREET JOURNAL
18-4-2017
King Kong Becomes the First Giant Ape to Lose a Fight to a Dead Turtle
After Vietnam served as a backdrop for 'Skull Island,' officials moved to erect a Kong statue—only to see outraged locals shoot the plan down in favor of honoring another creature instead
By James Hookway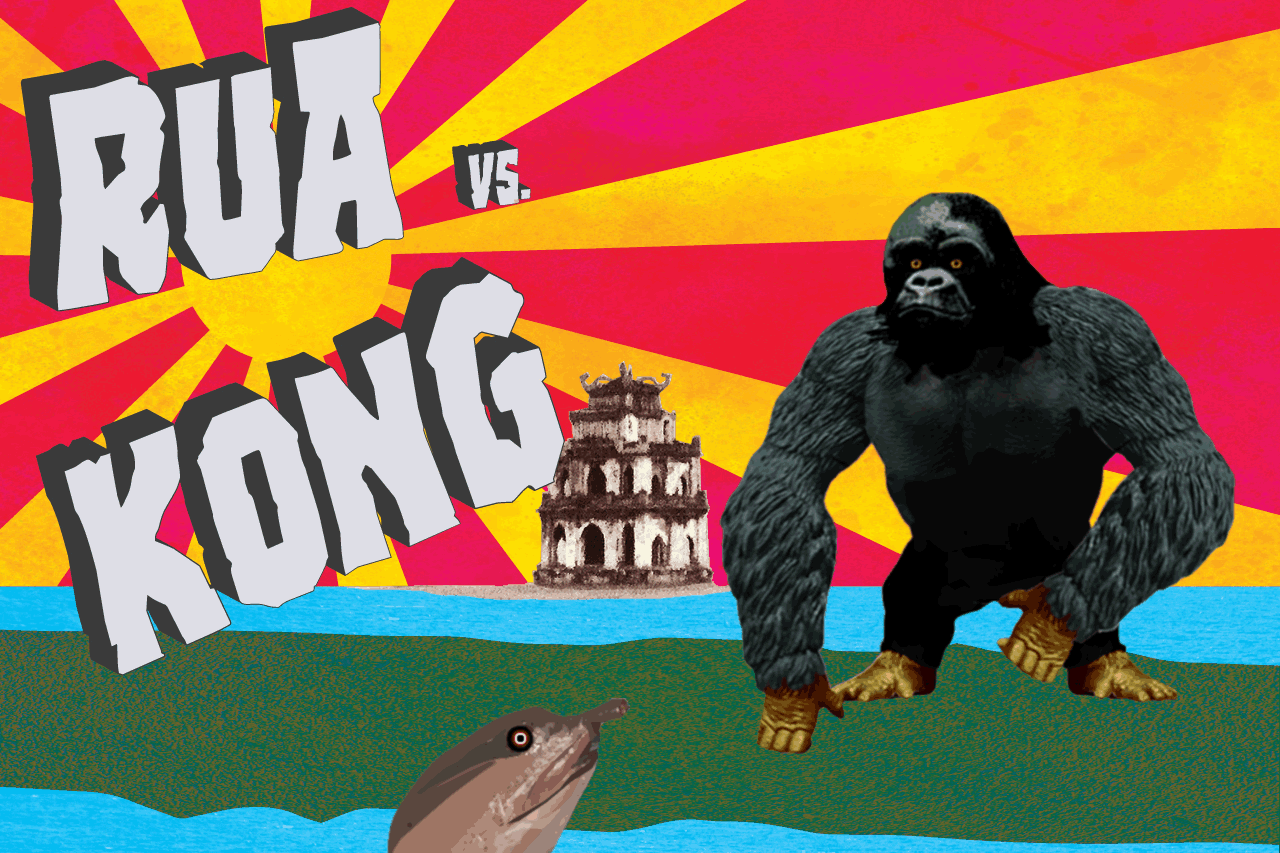 HANOI—The recent movie "Kong: Skull Island" was filmed among the limestone cliffs and bays of northern Vietnam. It smashed box-office records when it opened here in March.
Not surprisingly, the local tourism authority thought it would be a fabulous idea to build a towering statue of Kong near the banks of the city's famous Hoan Kiem Lake.
Spoiler alert: It ain't happening.
The statue plan provoked a strong public backlash—but not for the reasons one might imagine. The locals weren't concerned that a giant ape towering over the city might be an eyesore. Their main objection was putting the statue near the lake whose most famous resident was a beloved and recently departed giant soft-shelled turtle named Cu Rua, or Great Grandfather Turtle.
"How could they even think of doing such a thing?" said local biologist Ha Dinh Duc, 78 years old. If there is going to be a statue, Mr. Duc said, it had better be of Cu Rua, which he and other Vietnamese regard as the embodiment of a mythical turtle that kept China's armies at bay for over 500 years, and which floated up dead in the lake last year.
"We need to erect a statue to Cu Rua quickly," said Mr. Duc, sweeping back his long gray hair as he rolled a cigarette. "Someone else might try to put up another statue of a monster instead."
Looking back, the premiere of "Kong: Skull Island" might have provided a few clues as to the turmoil to come.
As guests converged on the CGV Cinema in Ho Chi Minh City for the debut in March, a dancer swinging a torch accidentally set fire to a 16-foot-high model of Kong, sending cinemagoers screaming as flames billowed into the tropical night. Nobody was injured. Security teams put out the fire within a few minutes and the screening went ahead as scheduled.
If anything, the fire ignited more interest in director Jordan Vogt-Roberts' reboot of the King Kong legend.
Local officials in northern Vietnam where the film was shot now use the film to draw in visitors. Tour companies are offering movie-tailored itineraries and "Kong Cruises" for visitors who want to see the big-screen locations for themselves. "The landscapes were stunning," said Nguyen Thi Phuong Thao, the billionaire founder of local airline VietJet. She reckoned it could spur more interest in the country.
Vietnam's Tourism Ministry even appointed Mr. Vogt-Roberts as its tourism ambassador for the next three years.
He had scouted various locations for the film, but only Vietnam had the atmosphere he was looking for. "You can only find these landscapes here; you can't find them anywhere else in the world," the thickly-bearded director said at a ceremony in Hanoi as government officials in dark suits looked on approvingly and applauded.
Trouble was brewing, however. On March 3 the tourism ministry sent a memo to the Hanoi city government. It suggested erecting a life-size statue of Kong so visitors could take pictures of themselves next to it as well as collect brochures on some of the locations in the movie.
The backlash was immediate. Some people took to Facebook , where they uploaded mocked-up images of Kong bathing in Hoan Kiem Lake or climbing famous landmarks around Hanoi and Ho Chi Minh City. Others posted messages slamming whoever came up with the plan for ignoring Vietnam's own legends and history.
Worse, Vietnam's tourism authorities had to contend with Mr. Duc and the rest of the turtle lobby. They argued that the lake is a sacred site imbued with an Arthurian-like legend that paints the turtle as a kind of supernatural guardian.
The story has it that a dragon king lent one of Vietnam's independence heroes a magical sword to drive out an invading Chinese army in the 15th century. Victorious, he returned it to the turtle for safekeeping at Hoan Kiem Lake, which in Vietnamese means "The Lake of the Returned Sword."
Building a monument to some other beast is plain sacrilege, Mr. Duc said.
In another life, Kong and Cu Rua might have been friends.
The film portrays a team of scientists and soldiers who set off to explore an uncharted island toward the end of the Vietnam War. There they find a unique and terrifying ecosystem, dominated by huge, dinosaurlike beasts that a ragged castaway played by John C. Reilly calls Skull-Crawlers. "I never said that name out loud before. It sounds stupid now that I say it. Just you call 'em whatever you want," his character says.
Eventually other members of the cast, including Tom Hiddleston, Brie Larson and Jing Tian, realize there is more to Kong than meets the eye.
It is the same with Cu Rua, Mr. Duc says.
As long as the turtle was healthy, it meant that Hanoi was still clean enough for humans, too. In recent years though, Cu Rua began to ail. Pollution was a contributing factor, Mr. Duc says.
The government enlisted Mr. Duc and other experts to catch and treat it in 2011. Among other things they found that Great Grandfather Turtle was actually Great Grandmother Turtle. Mr. Duc estimated she was hundreds of years old. She weighed 360 pounds.
After Cu Rua turned up dead last year, some Vietnamese worried that a disaster would befall the country. It is already facing a number of challenges. The collapse of a cross-Pacific free trade pact is threatening to slow exports and Vietnam is again facing off against China, this time for control of atolls and reefs in the South China Sea.
Building a Kong statue now, Mr. Duc warned, would be tempting fate just a little too much.
"It's very shortsighted," he said, leafing through piles of monographs and other scientific and cultural papers he has written about Cu Rua.
Eventually, the city government agreed.
"We have advised the People's Committee of Hanoi to demand that the Ministry of Culture, Sports and Tourism choose a more suitable location for any Kong model," said Truong Minh Tien, who is deputy director of the city's cultural and sports department.
Officials are now sketching out plans for a monument to Cu Rua instead.
"It's exciting," Mr. Duc said. "We could have a competition to select the best design."